Promotional Products are Powerful
Call them what you will: imprinted promotional items, advertising specialties or even 'tzotchkes'. The fact is, promotional products offer a powerful and extremely cost-effective solution to build brand-awareness, and Crackerjack Promos, located in Long Island, New York, can help. Since 1980, we've helped our customers:
Build tradeshow traffic with tradeshow giveaways
Go 'Green' with eco-friendly products
Recognize customers and employees with corporate gifts
Create a 'uniform' appearance with corporate apparel
We don't just imprint your promotional mug, your promotional pen or your promotional t-shirt. We 'imprint the minds' of everyone who sees and uses them. Powerful!
Crackerjack Promos. We Imprint Minds™
Featured Item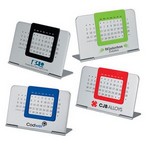 Perpetual Desk Calendar
Perpetual calendar with colorful slide that can be used year after year. Folds flat for shipping. 5 1/2" W x 3 1/2" H x 1/4" D
$1.59 - $2.50